Why does Bill Pay appear in my app?
Bill Pay is a feature available to all members. If you are not signed up for Bill Pay, your app will automatically disable the feature until you choose to enroll.
Do I have to be registered in traditional Bill Pay to utilize Mobile Bill Pay?
Yes. If you're not enrolled in traditional Bill Pay, you will not be able to access Bill Pay from your mobile device. Give us a call during regular business hours and we will be more than happy to sign you up.
Does Mobile Bill Pay have all of the same functions as traditional Bill Pay?
No. Mobile Bill Pay has limited functionality.
What features does Mobile Bill Pay have?
Make Payments
View Payment History and Payees
Monitor Recurring Payments
Full service Bill Pay is located in Home Banking.
How do I add payees?
To add a payee, you will need to access traditional Bill Pay through Home Banking.
How do I make a payment?
Select the Pay Bill tab. Choose the account you would like to pull the funds from, your Payee, the amount you would like to pay and then the delivery by date. See image below.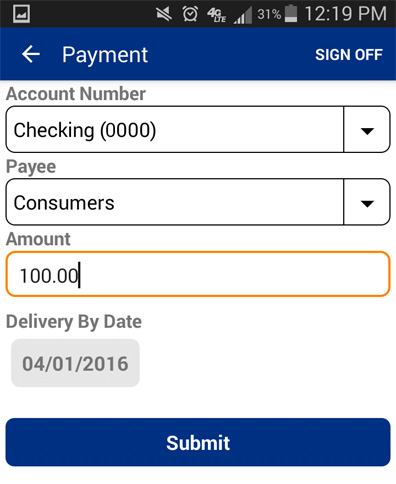 How do I set recurring payments?
You will have to access traditional Bill Pay to set recurring monthly payments. However, you can review and monitor payment history from your mobile device.
What does the Monthly Payment graph display?
When viewing your Monthly Payment graph, you are looking at the months and how many payments you have made to each payee. See image below.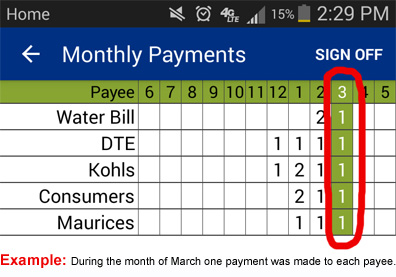 Go to main navigation