Great News! We're Updating Our Digital Banking
Mobile Banking is being upgraded on October 11, 2022, to a more personalized Digital Banking experience that's so smart yet so simple to use.
The day-to-day functions you rely upon will still be there, and they'll be complemented by new features like:
• New Look & Feel
• Personalized Dashboard
• Goal Setting
• Secure Support
• Debit Card Payments
• Business Banking
• Financial Wellness Tools
We want the transition to be easy for you! Here's what you need to know:
Online Banking will be offline for a short window from Tuesday, October 11th at 5 PM to approximately Wednesday, October 12th at noon.

Please call us at 989-739-1401 to update any changes to your phone number and email address.

If you are using our Mobile App, check that you have the newest version beginning October 12th.

Apple IOS users: Update Northland Mobile Banking app by going to the App Store on your Apple Device.

Android users: You must uninstall the old Northland Mobile Banking app before installing the new app.
Stay tuned in the weeks and months ahead as we continue to launch few features to help you bank how you want, when you want.
We're excited to deliver these powerful tools to you. Thank you for your patience and for being a member-owner of Northland Area Federal Credit Union.
Wherever you are on your journey, we're here for you. Stay connected to your accounts with Northland Mobile Banking. With our free mobile banking app for iPhone®, iPad® and Android™, you can view accounts, transfer money, pay bills, locate branches, and find ATMs, anytime, anywhere.
Northland does not charge a fee for mobile services. Check with your mobile service provider, usage fees may apply.
Step 1: Sign Up
Speak to a Member Service Representative to sign up for NAFCU Home Banking.
You will be provided credentials to login into Mobile Banking.
Step 2: Pick your Preference
What mobile banking option is right for you?
Mobile Apps:
Greatest mobile functionality!
Mobile Web:
Perform limited transactions on your device's web browser
Mobile Text:
Perform simple transactions such as check account balance by text
Enroll your phone number through Mobile Web or a Mobile App
Mobile Deposits
Mobile Deposit or Remote Deposit Capture (RDC) allows qualified members to "deposit" checks electronically to their Northland account using a mobile device. Simply scan an image of a check and it electronically deposits to the credit union.
Remote Deposit is currently available to qualifying Gold, Silver, and Bronze accounts. Ask how you can qualify!
Mobile Wallet for VISA and Debit Cards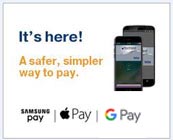 Mobile Wallet offers Northland VISA or Debit cardholders a safer, simpler and more secure way to pay. Use your compatible mobile device in stores and online without entering personal information. You can pay with a single touch, so no one sees your name, card number or security code. Your card info is not stored on the device or on the Apple, Samsung or Android servers. Download the Mobile Wallet app today!
Go to main navigation