Save time and money with Free Mobile Banking! * Just think - no more trips to the credit union for an account balance or to make a simple transfer. You have four different ways to enjoy the benefits: Text Banking, Mobile Web, Android App and iPhone App. Signing up is simple, too!
*Note: Northland does not charge a fee for mobile services. Please check with your cell phone and internet service providers before accessing mobile banking. Any usage fees they charge will apply.
Step 1: Sign Up
Speak to a Member Service Representative to sign up for NAFCU Home Banking.
You will use these credentials to login into Mobile Banking.
Step 2: Pick your Preference
What mobile banking option is right for you?
Mobile Apps:
Greatest mobile functionality!
Mobile Web:
Perform limited transactions on your device's web browser
Mobile Text:
Perform simple transactions such as check account balance by text
Enroll your phone number through Mobile Web or a Mobile App
Mobile Deposits
Mobile Deposit or Remote Deposit Capture (RDC) allows qualified members to "deposit" checks electronically from a remote location using their mobile device for credit to their credit union account. The member digitally scans an image of the check and it is electronically transmitted to the credit union.
Remote Deposit is currently available to qualifying Gold and Silver accounts. Ask us how you can qualify!
Mobile Wallet for VISA and Debit Cards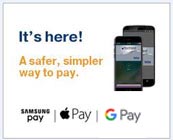 Northland VISA Cards and Debit Cards work with Mobile Wallet! Mobile Wallet offers a new way to use your NAFCU VISA or Debit card that is safer, simpler and more private. Use your compatible mobile device in stores and online without entering personal information. You can pay with a single touch, so no one sees your name, card number or security code. Your card info is not stored on the device or on the Apple, Samsung or Android servers. Download your app today!
Go to main navigation