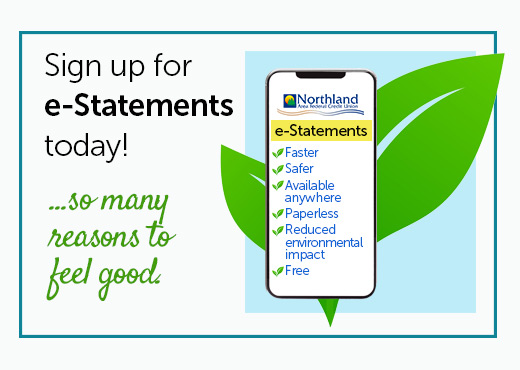 eStatements, Sign up Today
Switch to eStatements and help preserve our natural resources for future generations.
eStatements are an electronic version of your account statement that you access through Home Banking. They look just like a paper statement, except they don't use paper and arrive in your Home Banking account instead of your mailbox. eStatements are convenient, secure, and ready to view as soon as statements are processed. No more waiting for the mail!
You can sign up for eStatements online, through Home Banking, or at any Northland location. Members must enroll for Home Banking to view eStatements.
Available eStatements:
eNotices
Tax Forms
Account Statements
Statement Inserts
Newsletters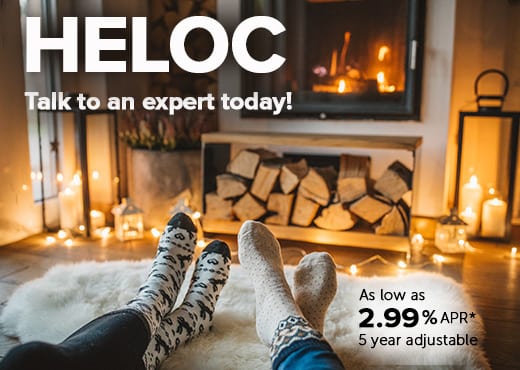 HELOC, the Loan You Can Live With
Are you a home owner? You may be able to borrow against the equity in your home to finance large expenses. Northland Area Federal Credit Union offers Home Equity Loan or Line of Credit with competitively low interest rates. How you apply the funds is your choice - make home improvements, pay college tuition, consolidate debt, take a vacation, or many other purposes.
Borrow up to 95% of your home's appraised value. Interest rates are variable and you access funds when you want through checks or Online Banking, and you pay interest only on the amount you access.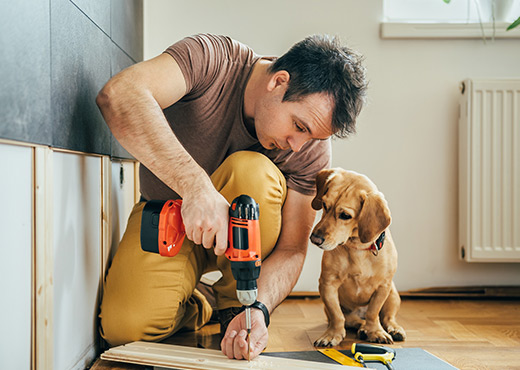 Are You Ready for a Home Improvement Loan?
Are you ready to build your deck, update your bathroom or renovate your kitchen without breaking your budget? Northland's unsecured Home Improvement Loan offers you the low-cost financing you need with rates lower than most credit cards and home improvement store cards.
Our Home Improvement Loan features:
Loans up to $25,000
Loan repayment up to 7 years
Competitive rates
All checks made payable to contractor or home improvement store
Click here to apply or you may call 989-739-1401
Equal Housing Lender