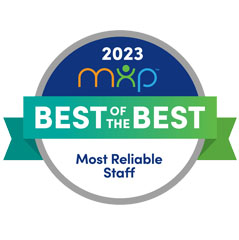 NAFCU 2023 Best of the Best
Northland Area Federal Credit Union recently received the 2023 Best of the Best award for having the Most Reliable Staff. Annually, the Best of the Best award is given to credit unions, whose members report they receive consistent and extraordinary service. Only the highest-performing credit unions using the MemberXP program receive this incredible honor.
"We are pleased that our members across our field of membership took the time to give us feedback on our service. Providing financial support and guidance is at the core of what we do. I am proud of the team at Northland Area Federal Credit Union for making that possible for our members," said Deanna Reeves VP of Member Service.
Friends Don't Ask Friends
The popularity of several new Peer to Peer or "P2P" apps has seemingly made sending money to individuals much easier. However scammers have quickly learned how to use this new technology to steal millions of dollars. One popular scam technique is that a fictitious "friend" contacts you saying they "accidently" sent you money on a P2P service and they ask you to send the money back. This is a scam. If you send money back to a scammer, the P2P service could take funds out of your account or hold you accountable. Instead, contact the P2P service to report the error. The Credit Union National Association (CUNA) lists P2P scams as one of five fraud threats to watch out for in 2023. Text Alerts Coming Student Loan Options Available Northland will soon be utilizing text messaging alerts. If unusual activity is detected you may receive a text alert wherein you can confirm that the transaction is legitimate. If it is not, a phone number will be provided along with the option to opt-out of these alerts. Notifications will go into effect Monday, April 3rd, 2023. The membership agreement has been updated to reflect this additional notification method for fraud alerts (see section 35 of the membership agreement). Details of the membership agreement can be found on our website - northlandcucom. New at Northland! For more information visit northlandcu.com. Go to Borrow>Student Loans Another popular P2P scam in use is when fraudsters use social engineering techniques to gain unauthorized access to P2P payments to get consumers to buy fake items or give up their account credentials. Once a consumer is lured into sending money, there are limited ways for them to recoup their losses because peer-to-peer payments move money immediately and are irreversible. Northland utilizes a much safer member- to[1]member system so you truly know the person that money is being transferred to and there are much better safeguards in place than a peer-to-peer service. For more information on the P2P scam, visit news.cuna.org/articles/122101-5-fraud[1]threats-to-watch-in-2023.
We WANT to hear from you if you have questions. 989-739-1401
Announcing Digital Banking Updates
In October, Northland rolled out an updated Omni Channel banking experience, this means all features will be available from one seamless platform, across all devices. Northland promises to provide solutions to improve your financial life, to build on this promise we've redesigned and added many new features to improve the entire Digital Banking experience. Here at Northland we make it our mission to help all of our members better manage their financial life. Adding in-demand and valuable features allows our members to bank with confidence and ease. We strive to provide the tools needed for you to be successful. Some of the features you can look forward to using:
• Personalized Dashboard: Engaging & cohesive design that is fast & easy.
• Online Account Opening: Open new accounts and shares – anytime from anywhere!
• Secure Online Loans: Apply and receive funding quickly from any digital device.
• Financial Hub: Connecting all your internal accounts in one easy to access location.
• Business Banking: Exclusive Business Features, allowing Role-Based account access.
• Financial Wellness Tools: Savings goals, spending analysis, cash flow tracking.
For an easy transition, please call us at 989-739-1401 be sure your phone number and email address are current.
Go to main navigation