Northland History
In 1957, a small group of Air Force personnel, their families, and government employees organized a credit union on Wurtsmith Air Force base in Oscoda. Each person contributed $5.00, and with less than $100.00 total, Wurtsmith Federal Credit Union was born.
On October 23, 1957, the doors opened to 48 members. Since then, we've experienced many changes and much growth.
With a continually growing membership base, the credit union moved off the base in 1969. When Wurtsmith AFB later closed, we realized we needed a new name to describe our membership more accurately. So, on October 1991, our name was changed to Northland Area Federal Credit Union.
Since 1957, it's been our privilege to serve the people of Northern Michigan. For more than 66 years, we've followed the credit union philosophy of - Not for profit, not for charity, but for service. With this simple principle at our helm, we have grown. We are honored to be a 100% member-owned credit union and 44,000 members strong.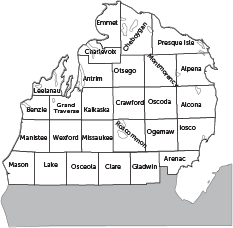 Northland Field of Membership:
People who live, work, worship, or attend school in and businesses and other legal entities located in Alcona, Alpena, Antrim, Arenac, Benzie, Charlevoix, Cheboygan, Clare, Crawford, Emmet, Gladwin, Grand Traverse, Iosco, Kalkaska, Lake, Leelanau, Manistee, Mason, Missaukee, Montmorency, Ogemaw, Osceola, Oscoda, Otsego, Presque Isle, Roscommon, and Wexford counties in Michigan; and also included are spouses of persons who died while within the field of membership of this credit union, employees of this credit union, members of their immediate family or household, and organizations of such persons.
Make the switch!
Mission Statement
The mission of Northland Area Federal Credit Union is to be our members' most trusted financial partner.
Go to main navigation