You're going to LOVE our Digital Banking for your companies!
Our new online banking is a more personalized Digital Banking experience that's so smart yet so simple to use.!
All of the day-to-day functions you've come to rely upon are still there, and complemented by new time-saving features like:
Member to Member Transfers
New Look & Feel
Link to External Accounts
Easy Account Opening
Easy Switch from Personal to Business Banking
Assign Role Based Accounts for Employees or Accountants
Personalized Dashboard
Secure Online Loans
Schedule Payments
Goal Setting
Secure Support
Debit Card Payments
Business Banking
Financial Wellness Tools
Here's what you need to know:
If you are using our Mobile App, check that you have the newest version beginning October 12th.

Apple IOS users: Update Northland Mobile Banking app by going to the App Store on your Apple Device.
Android users: Uninstall the old Northland Mobile Banking app before installing the new app.
Stay tuned in the weeks and months ahead as we continue to launch new features to help you bank how you want, when you want.
We're excited to deliver these powerful tools to you. Thank you for your patience and for being a member-owner of Northland Area Federal Credit Union.
Our Digital Banking Service is perfect for small and medium-sized operations to manage items such as account roles and permissions, and activity monitoring.
Register for Digital Banking
To sign up, download our new Northland app.
Mobile Apps:
All business, Non-Profit/Organization, and Governmental accounts register as a Business User. Business Banking and Retail Banking are two separate platforms; the Business Banking platform offers the same look and feel as the Retail platform but includes additional business tailored services.
Special Business Banking Features:
Manage Users, Business ACH (Arriving in 2023)
Manage Users:
This feature allows you to set up additional sub-users accounts to fit your individual tailored business needs. Example: Adding access for a joint owner, secretary, payroll, or accountant.
Add a Role
Start by creating User Roles - Click Add a New Role
Give the new Role a meaningful name, then carefully assign the proper permissions for the Role.
CAUTION - BE VERY CAREFUL AND SELECTIVE OF WHAT PERMISSIONS AND LIMITS YOU ASSIGN.
Adding Users
Once you have created business roles, you are ready to start creating users and assigning them to the business roles previously created.
Click Add a New User
Fill in the required User Info, then click NEXT
Select the Role you would like to assign to the user and click NEXT
Review the information for correctness, then click CONFIRM to finish creating the user, then DONE if you are finished creating users. Otherwise, click ADD NEW USER to continue creating more business users.
We want this transition to be smooth for you, and we're here to help. Call us at 989-739-1401 to talk to a Northland representative.
Mobile Wallet for VISA and Debit Cards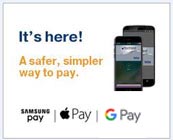 Mobile Wallet offers Northland VISA or Debit cardholders a safer, simpler, and more secure way to pay. Use your compatible mobile device in stores and online without entering personal information. You can pay with a single touch, so no one sees your name, card number or security code. Your card info is not stored on the device or the Apple, Samsung, or Android servers. Download the Mobile Wallet app today!
Wherever you are on your journey, we're here for you. Stay connected to your accounts with Northland Mobile Banking.
Northland does not charge a fee for mobile services. Check with your mobile service provider, usage fees may apply.
Go to main navigation